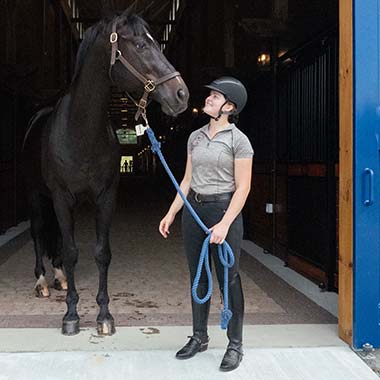 Julia Lee Barton is an up and coming talent in the dressage world. As a child, she boarded her horses at Arlene Rigdon's Freedom Hill, located near Julia's hometown of Lawrence, Kansas. She took lessons from Ms. Rigdon and also received regular lessons from Clare Krska, another gifted young rider. Focusing on dressage from an early age, Julia also received a strong foundational education in all aspects of horsemanship, as well as a practical and competitive education in eventing, foxhunting, tetrathalon and games through Mission Valley Pony Club in the USPC Midwest Region.
When Clare moved to Colorado for medical school, Julia followed, and both found the Westmanton Dressage team. By the time Julia was 14, she was training with Westmanton full-time and living with Grant, Sharon, and Nicole at their home in Elizabeth, Colorado. With Westmanton, Julia was expected to exhibit the skills and competence of a professional at a young age, and she rose to the challenge. As a result, Julia is known for her maturity, work ethic, and attention to detail in all she does.
As Julia's skills as a horsewoman grew, so did her riding resume. In 2015 she won her first national championship (Seat Medal). In 2016, she won the FEI Pony National Championship, on Bonnaroo, a pony she purchased as a four-year-old and largely trained herself, with the guidance of first Clare, and then Nicole. After selling Bonnaroo (who has since gone on to win another FEI Pony National Championship with her new owner) Julia purchased her KWPN mare, Ilionne. Julia is developing Ilionne "Lily" under the guidance of Grant. In addition to her work with Lily, Julia has continued to ride and show other talented horses, including client horses, with great success. In 2019 she was ranked sixth among US Young Riders. She has competed successfully through Intermediare I.
Julia has a strong national reputation as a young professional and especially enjoys her work developing young horses. Julia is often cited as an example of a rider with "feel," an intuitive skill which is difficult to teach. As such, she has consistently been included in prestigious invitation-only national clinics such as The Robert Dover Horsmastership Week (three years), and the USEF High Intensity Training Session at USET Headquarters in Gladstone.
With every horse, Julia sees herself as part of a team. Whether she is working as the rider, trainer, or groom, she knows she is just one part of the success story which lies ahead for every horse or pony. She seeks to create and maintain strong relationships with the owners who trust Westmanton Dressage with their horses. And, to realize the potential in every horse, Julia constantly strives for a deeper understanding of equine behavior and response to training methods by studying biomechanics, physiology, horsemanship, and sound veterinary, farrier, and saddle fitting practices.